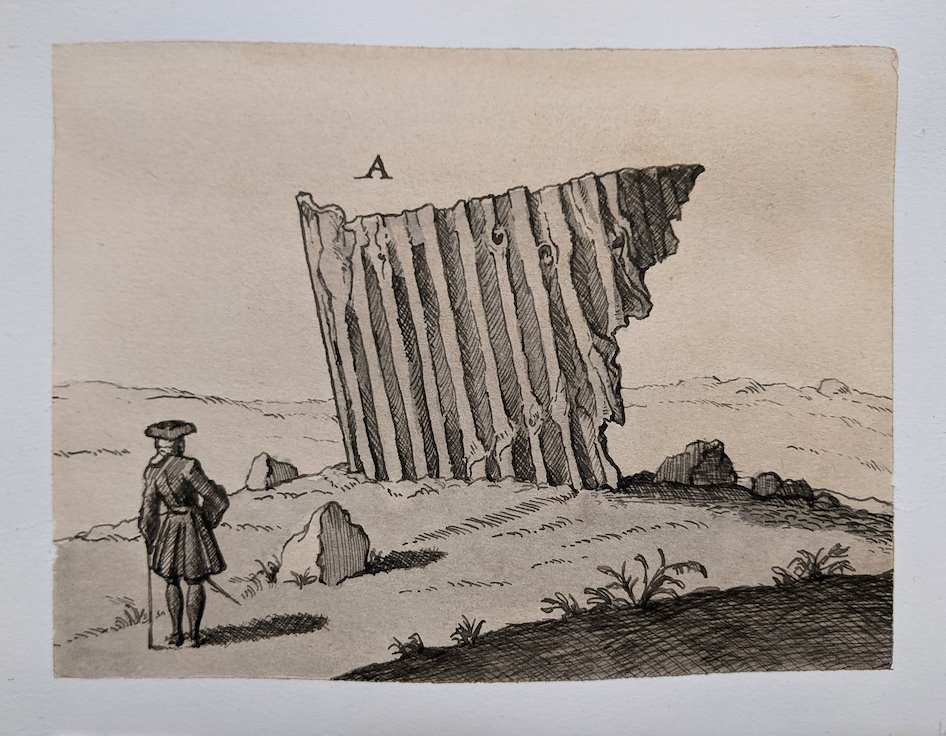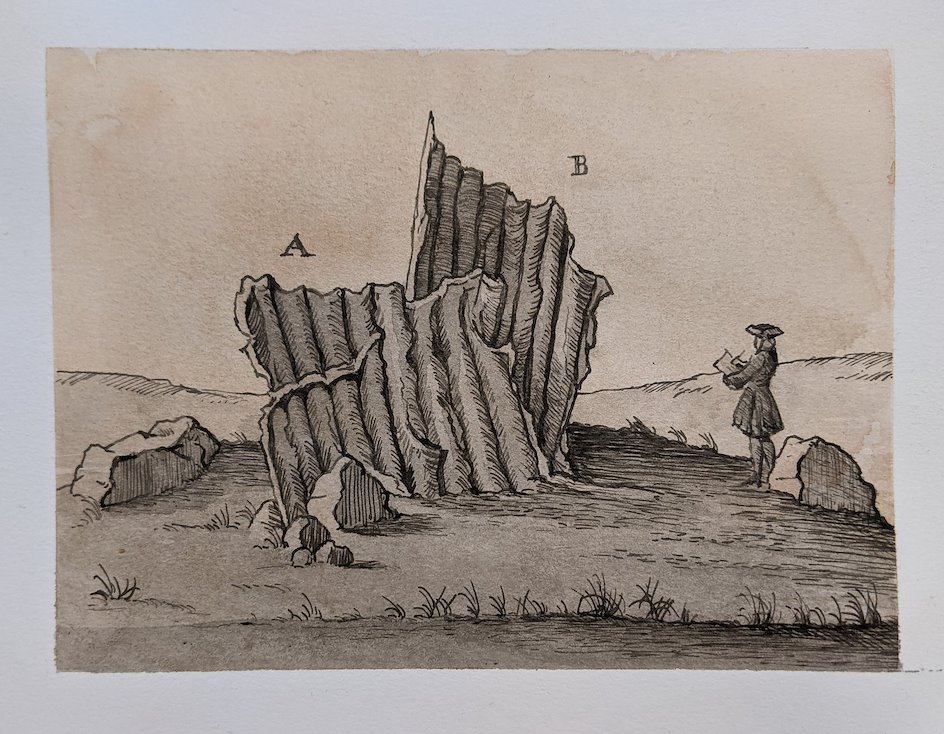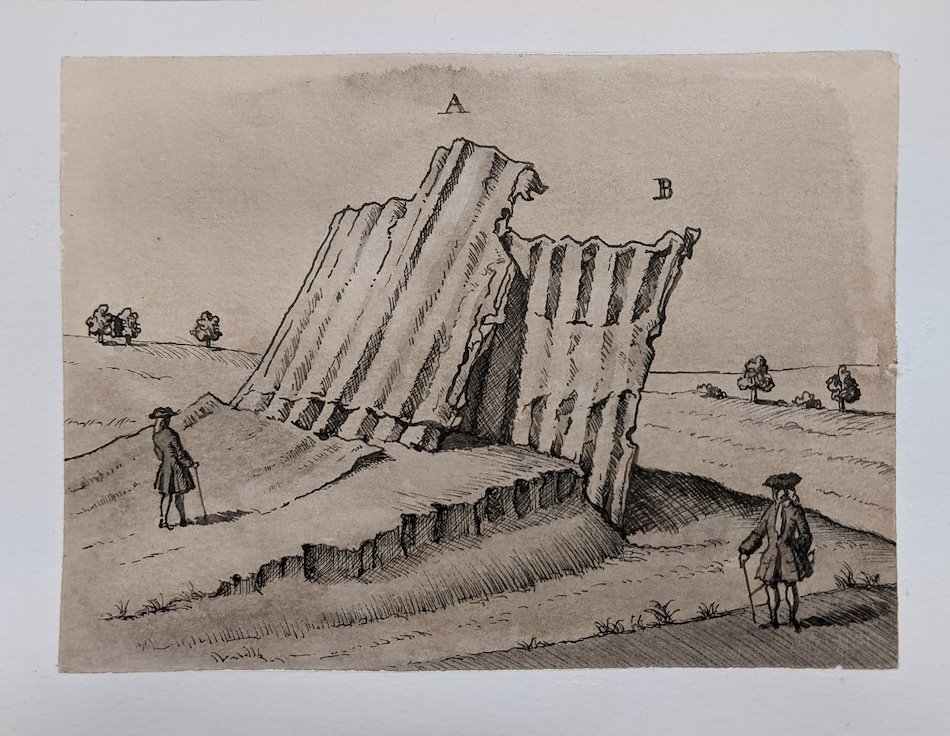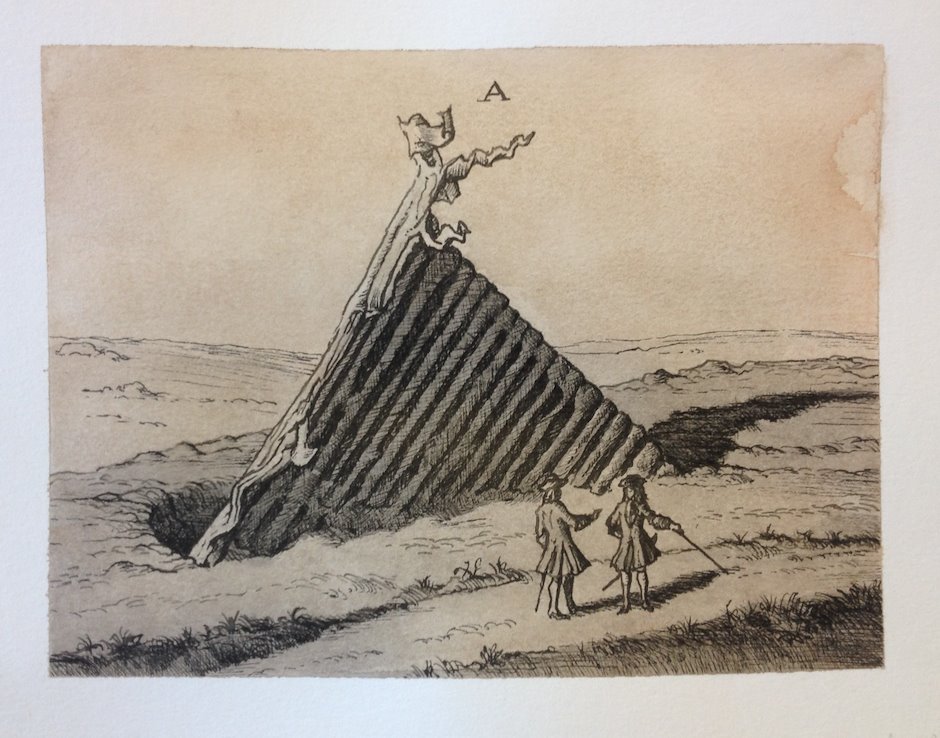 'The Antiquary'
"[O]ne cannot imagine by what art they were erected, nor by what people it was built […] what time this was done, […] or for what memorial or significance" ('Tractatus de mirabilibus Britanniae', 14th Century manuscript).
The substitution of ancient monuments in 18th Century drawings and engravings for torn scraps of corrugated cardboard is a strategy to combine and collapse reality and artifice, history and myth, with dramatic and incongruous alterations in scale. One layer of representation and meaning is superimposed on another, elevating cardboard waste to the cultural equivalent of antiquities and the remnants of an ancient people and their beliefs.
It is a deliberate absurdity to ennoble one while trivialising another, to gently mock the antiquaries' passion by showing them draw, measure and survey utterly worthless objects. That meaning, significance and cultural value can be extracted from or attached to this waste material is, on the one hand, the fundamental purpose of archaeology and, on the other, the transformative aim of Western Art.
The work of the antiquary was to explore, map, delineate, interpret and otherwise promote the wealth of antiquities extant in the landscape. And in this way, develop and dignify a coherent narrative for a nation's ancient origins and identity. Then as now, this enthusiasm before the ruin or prehistoric monument to record, measure and document, was a reflection not only of contemporary mood or taste, but also a response to changing social and economic realities, and the disquiet and anxieties they stirred. The past is always viewed through the lens of the present; in it we hope to see our own values and ideals reflected, to find reassurance and precedents to legitimise and validate the institutions, traditions and authorities of our own times.
The antiquary may search for origins, for antecedents and foundations; however, the cardboard ephemera of discarded packaging speaks only of final destinations, not of origins or beginnings.
(Images are of small ink and watercolour works, completed in 2020. They are inspired by the illustrations of William Stukeley, the 18th Century antiquary).