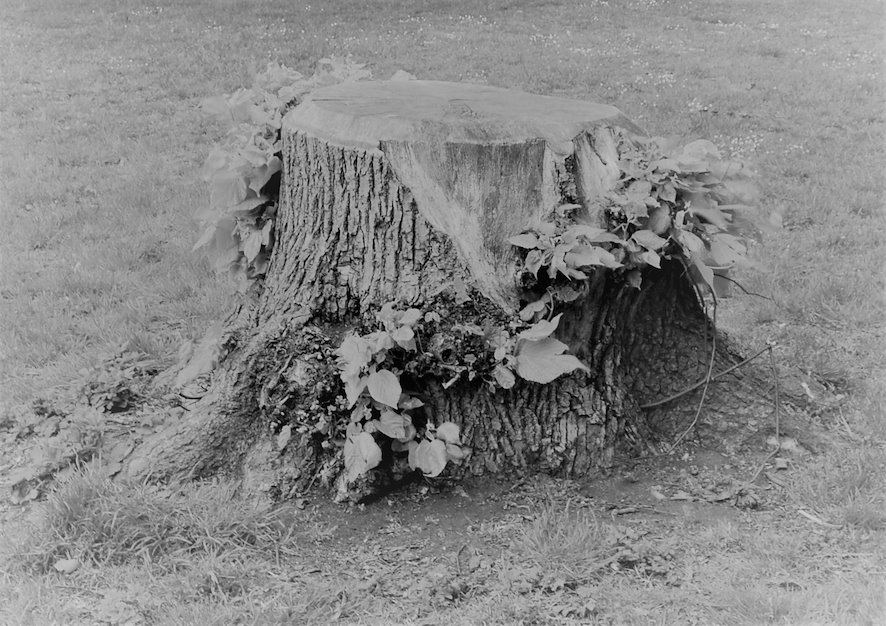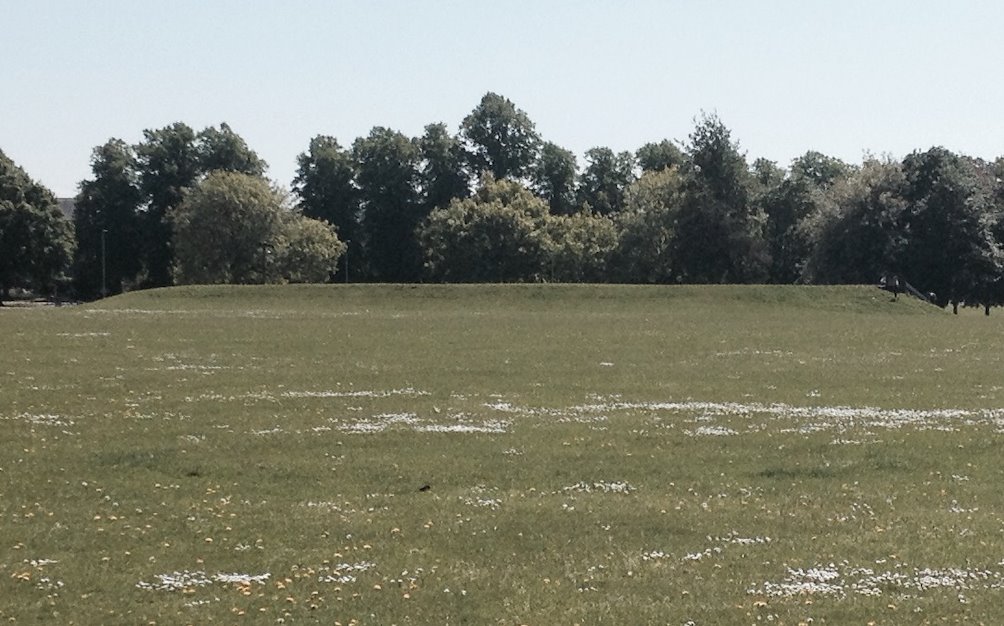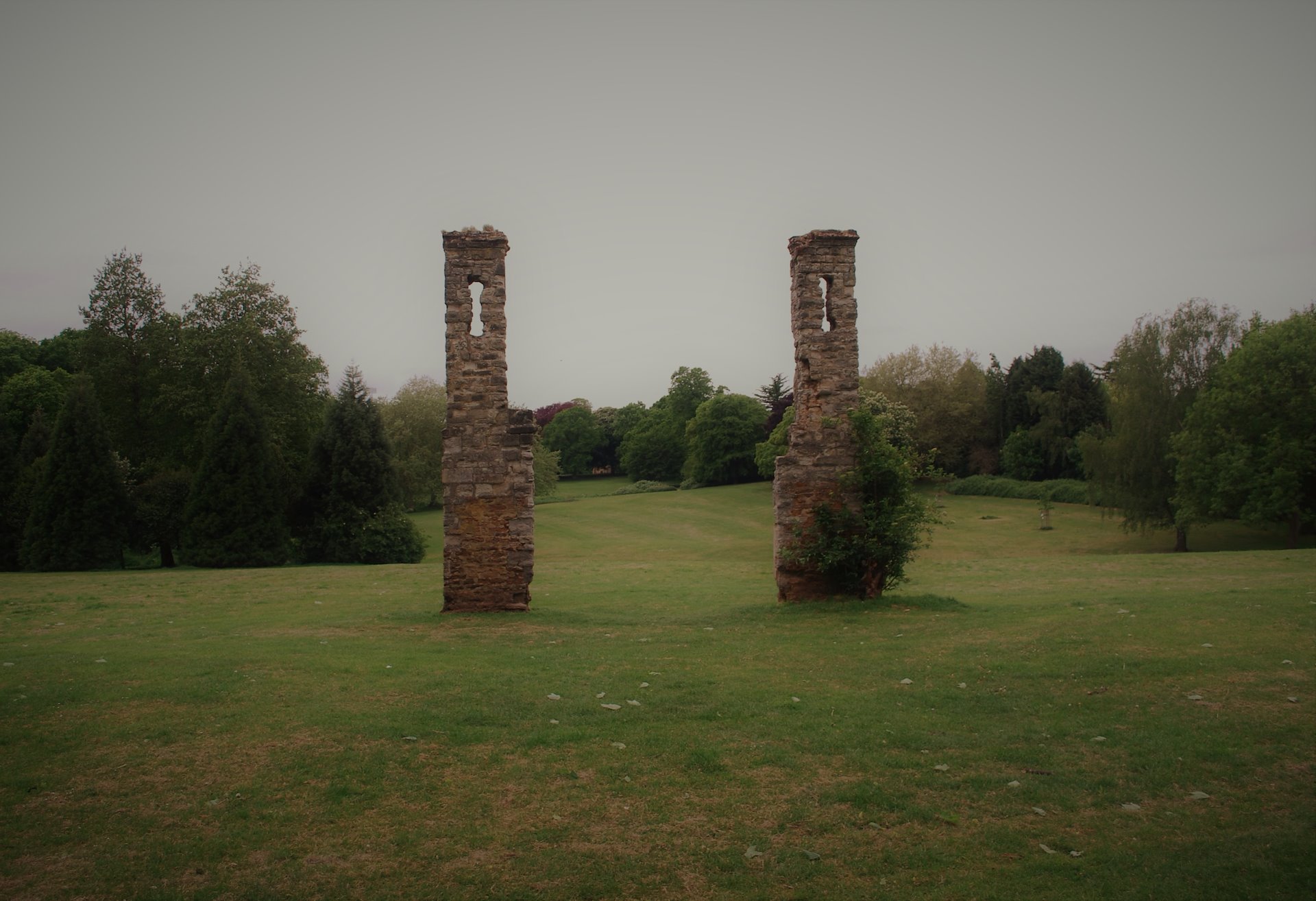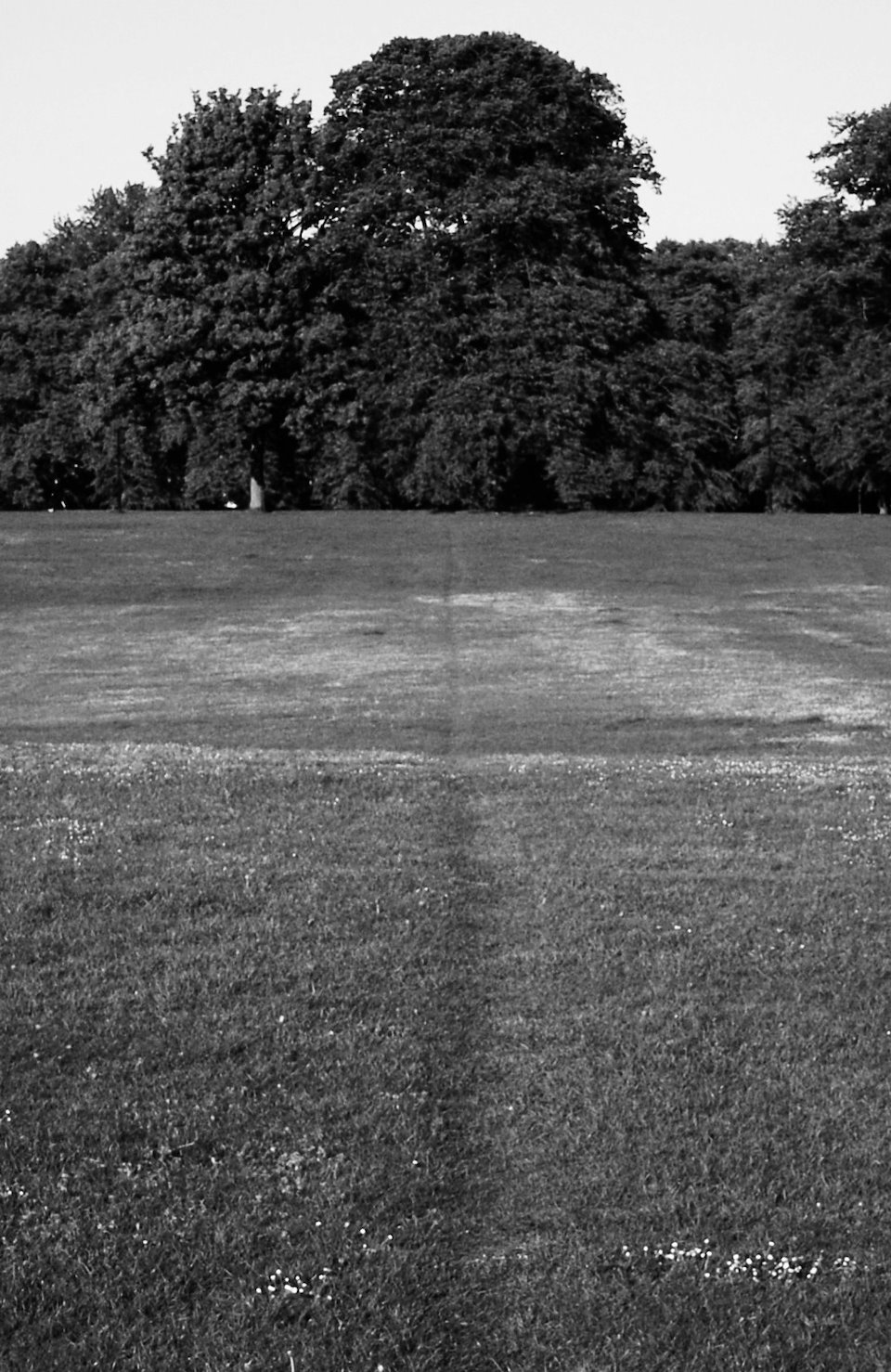 'COVID-19 (continued)'
This image is not that of Richard Long's 'A Line Made By Walking' (1967), but a photo of a new path worn into the landscape near my home. It has appeared over recent weeks as a record of time and movement, emblematic of repetitive and daily routines. In every sense a formal response made by all those escaping the confines of their homes, pacing the parameters of an abruptly restricted world, redefining the limits of our freedom.
'COVID-19'
I recently read an article which associated the feelings experienced at the initial shock and discomfort of 'lock-down', and those encountered during the subsequent imposed isolation, with the various documented stages of grief (denial, anger, etc). But what struck me most was the expression 'anticipatory grief' - the fear and anxiety induced by the thought of future loss, misfortune, and death. This grief for a perhaps distant eventuality resonated with the themes in my current practice, in particular the exploration of the ruin as a projected future which seeks to depict the inevitable by evoking the past. In relation to my work however, I would suggest another aspect of grief is more appropriate, that of acceptance, the final stage of the recognised grieving process. The recurring motifs of atrophy and collapse are not I would argue, the consequence of anxiety for the future, but more a detached representation of the inevitable: a post-apocalyptic, post-human future.
Grief shares much with our understanding of nostalgia as a sense of yearning, loss or remembrance. Nostalgia occupies a singular position in relation to contemporary circumstances, in that it is stirred by the present, but looks to the past (the imperfect, the imagined, the mythologised), in order that hopes for the future are re-inscribed with the sunnier recollections of former times (like the two faces of the Roman god Janus, looking both forward and back in time). The enforced lock-down and isolation due to the coronavirus pandemic reveals not only grief, but the function of nostalgia: trapped indoors, we remember the days of freedom, of unrestricted social activities, and this longing we project forward to the day we can once again enjoy all that we previously took for granted, but are currently denied.
(Photo is of a diorama featuring details from the immediate environs of my studio.)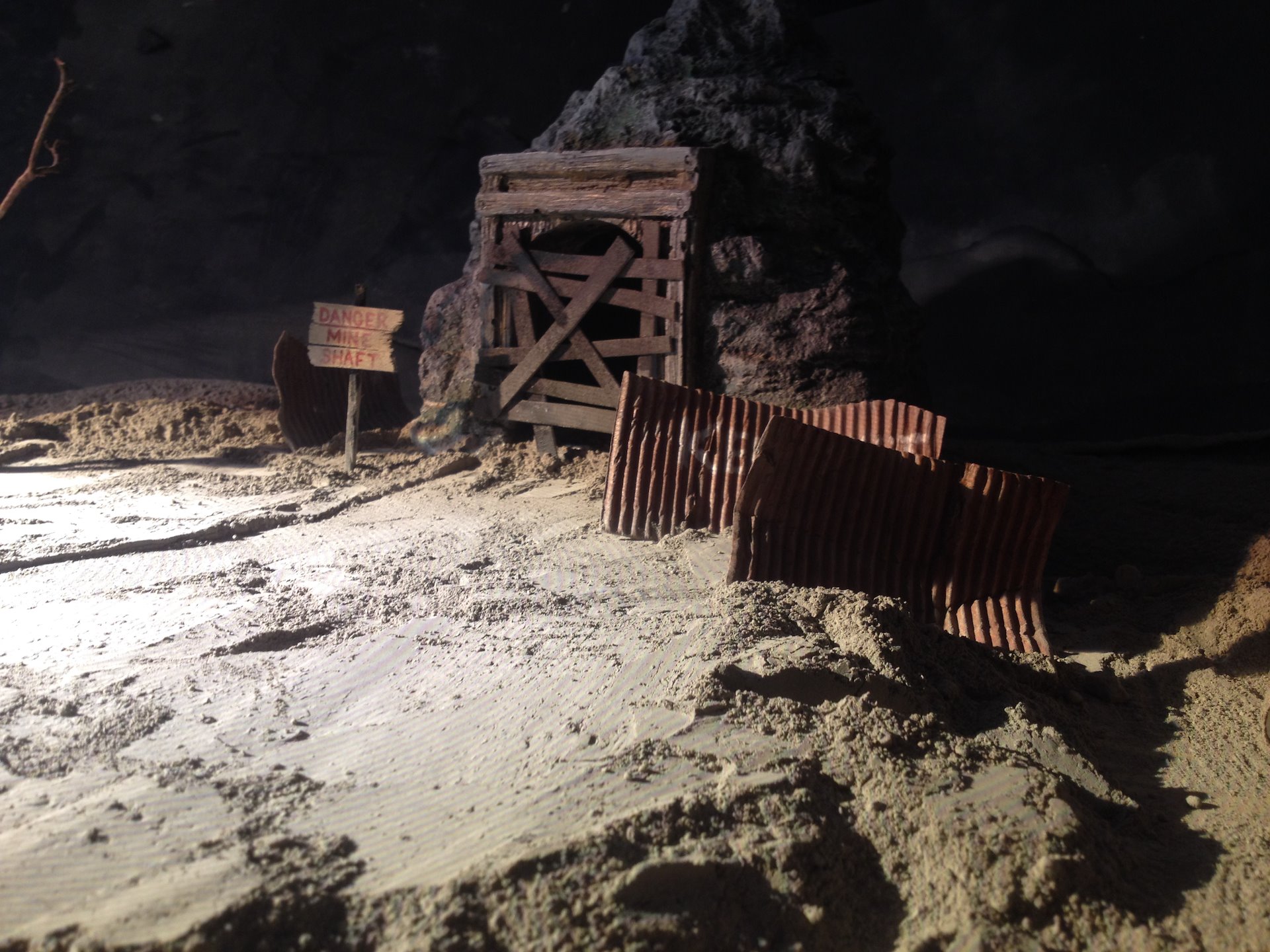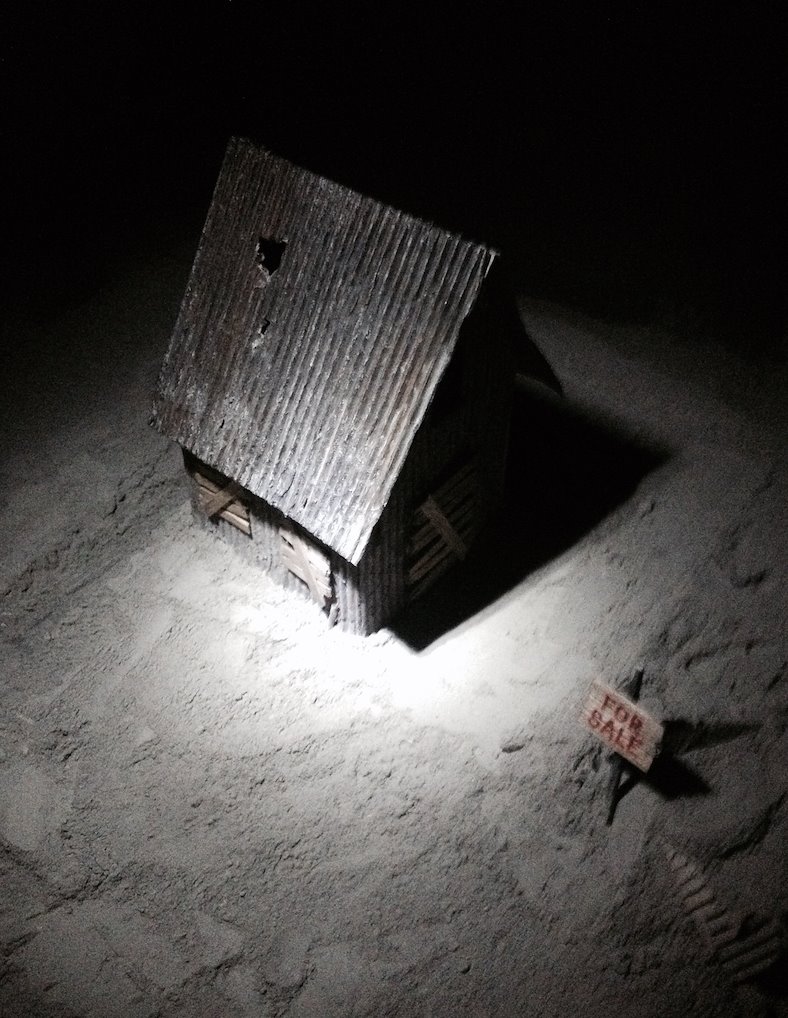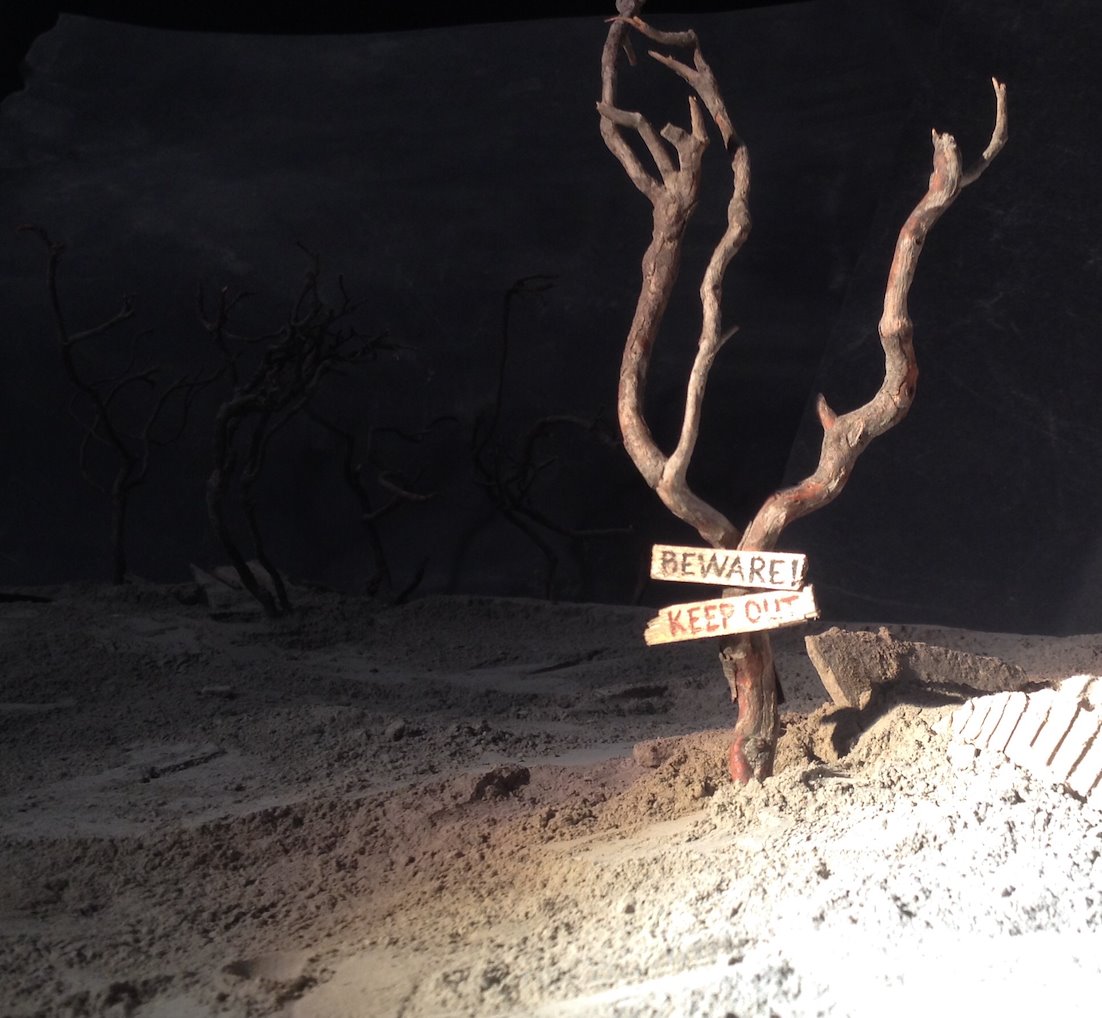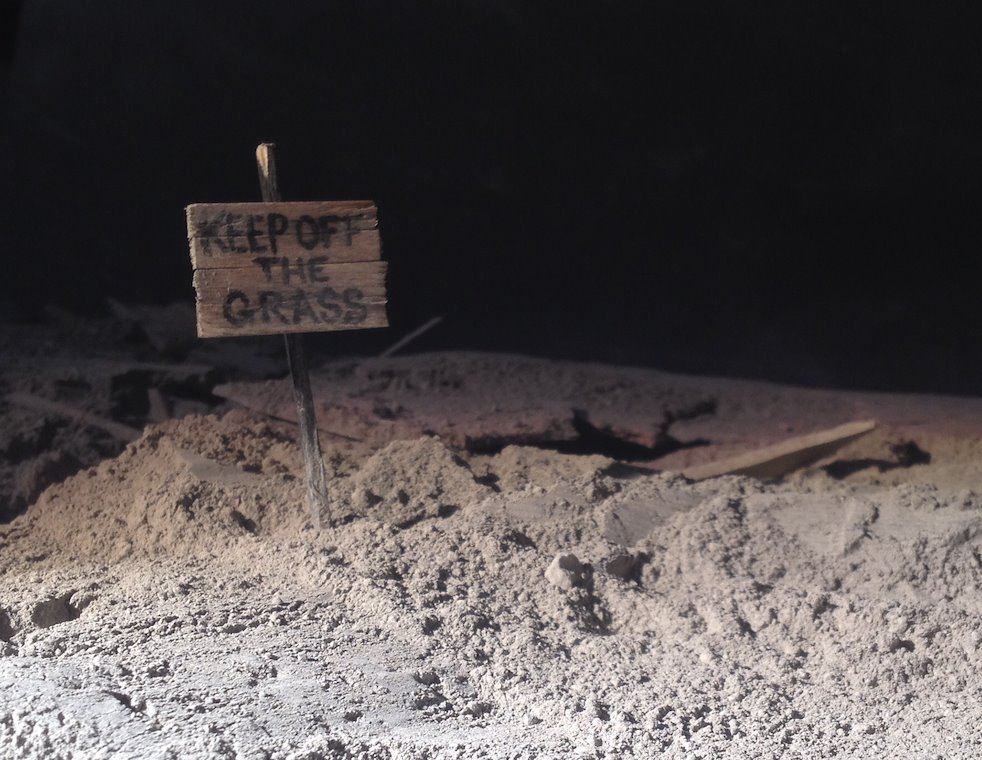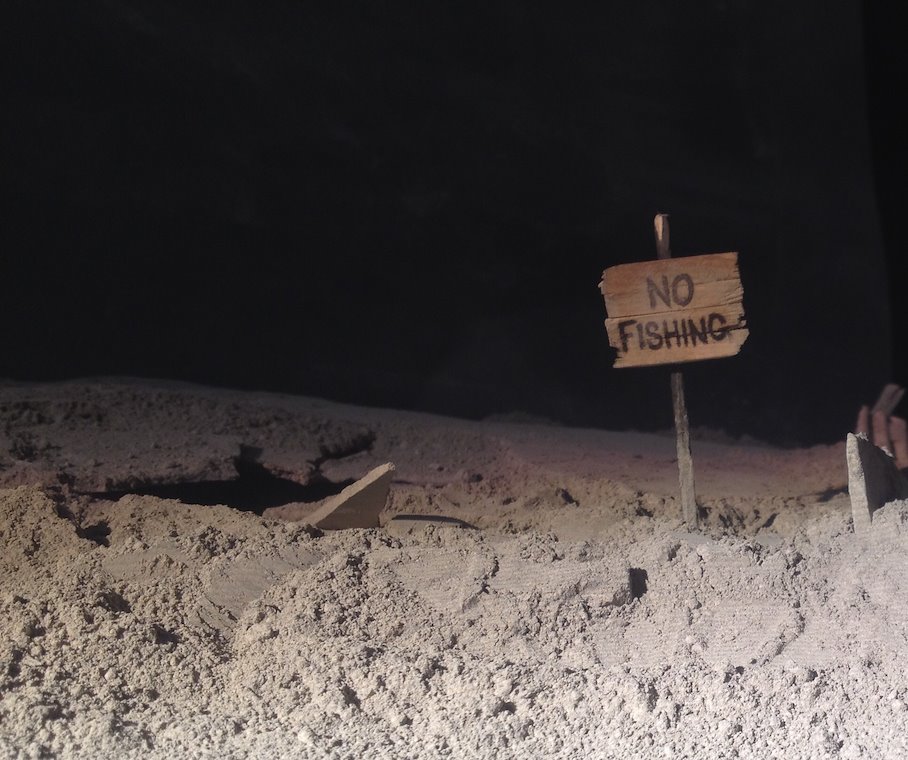 'Road Ahead Closed'
The beginnings of a project to develop works using signage in part inspired by, and referencing, that which appears in TV cartoons ('Scooby Doo', Looney Tunes, etc). This signage is in many cases ironic, its meaning inverted and intended to mislead, misdirect (a lure to a trap or ambush), or otherwise a warning or proscription, a literal deterrent.
By introducing ironic and absurd signage to my dioramas, I am able to ridicule and undercut the often sombre and portentous tropes of the Romantic tradition.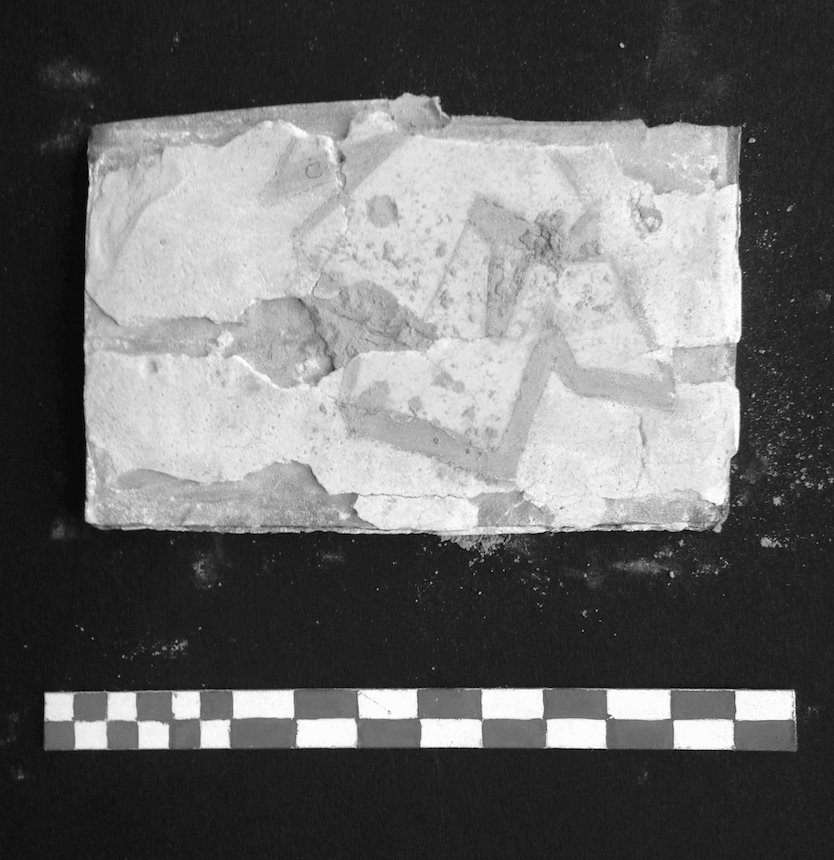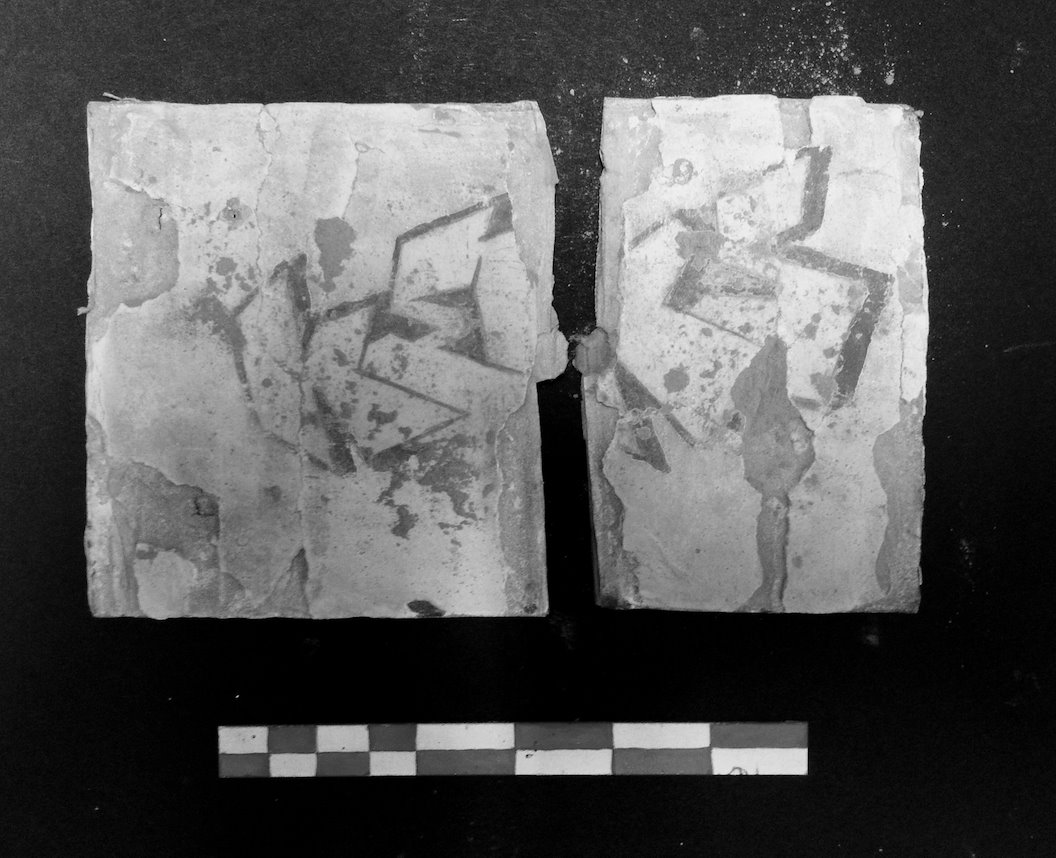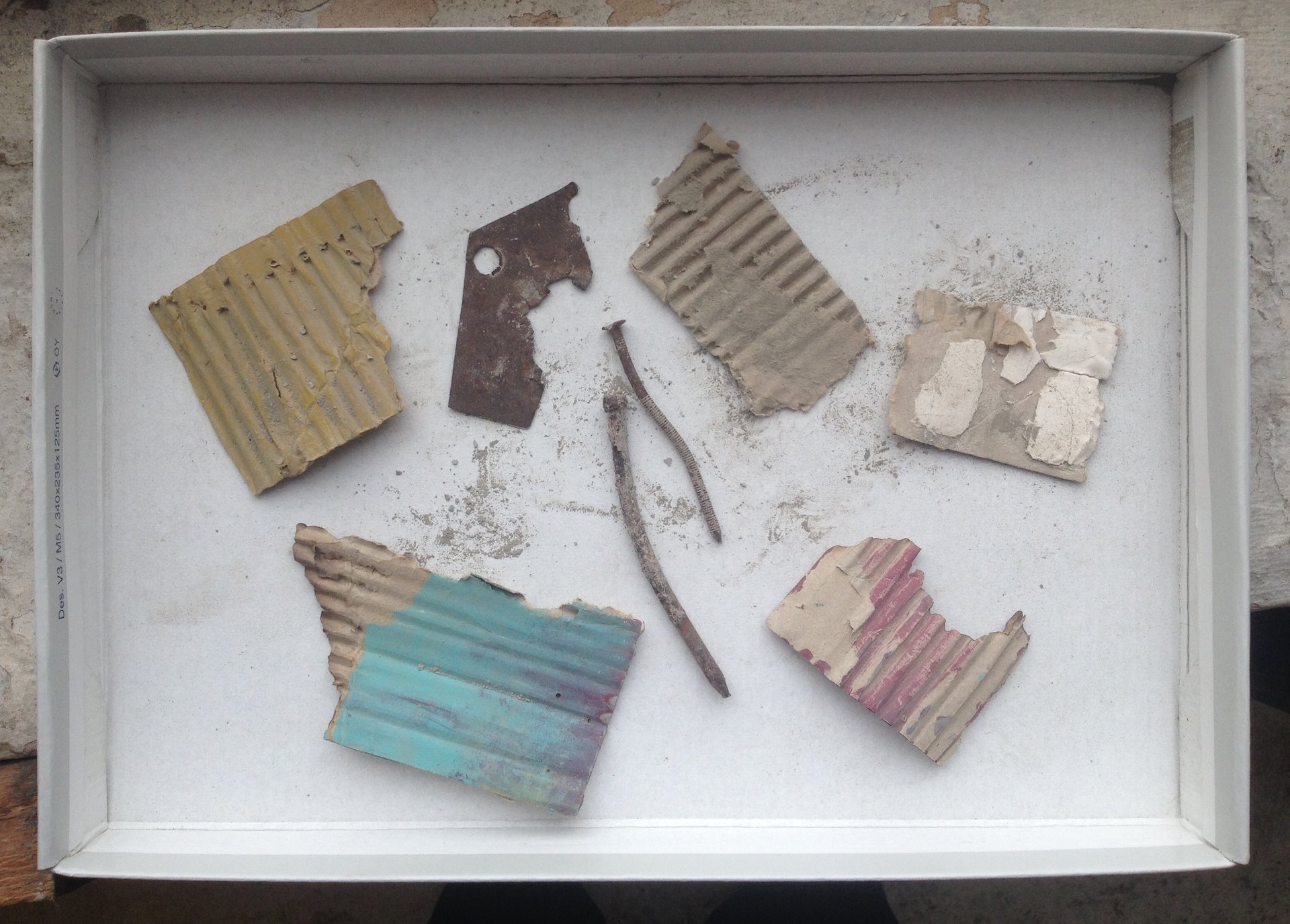 'Finds'
The first images forming a conceptual shift using the scraps of cardboard and other assorted material that typically constitute my dioramas. Whereas before these objects would represent allusive and metaphorical subjects for artworks, here the material is re-conceived as archaeological artefacts: they have become objects to document; a factual record of both current and past activity. Found in the studio and incorporated, embedded in cement, the detritus forms the sediment of future dioramas, repeatedly buried and lost, only to be again rediscovered. The act of excavating the buried debris from the cement thus becomes performative; the recovery and subsequent display of the objects indexical and unmistakably archaeological.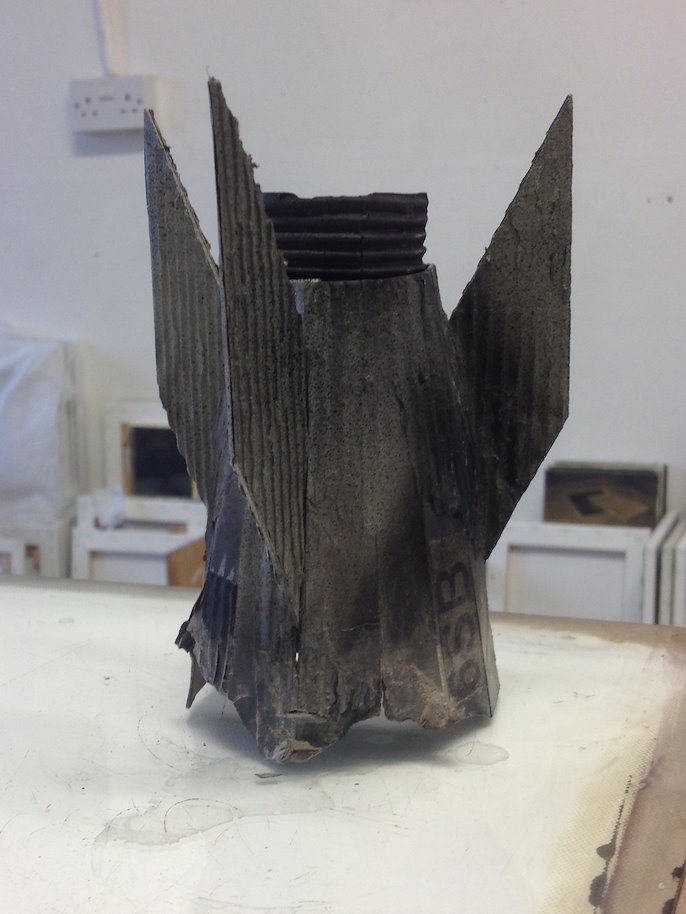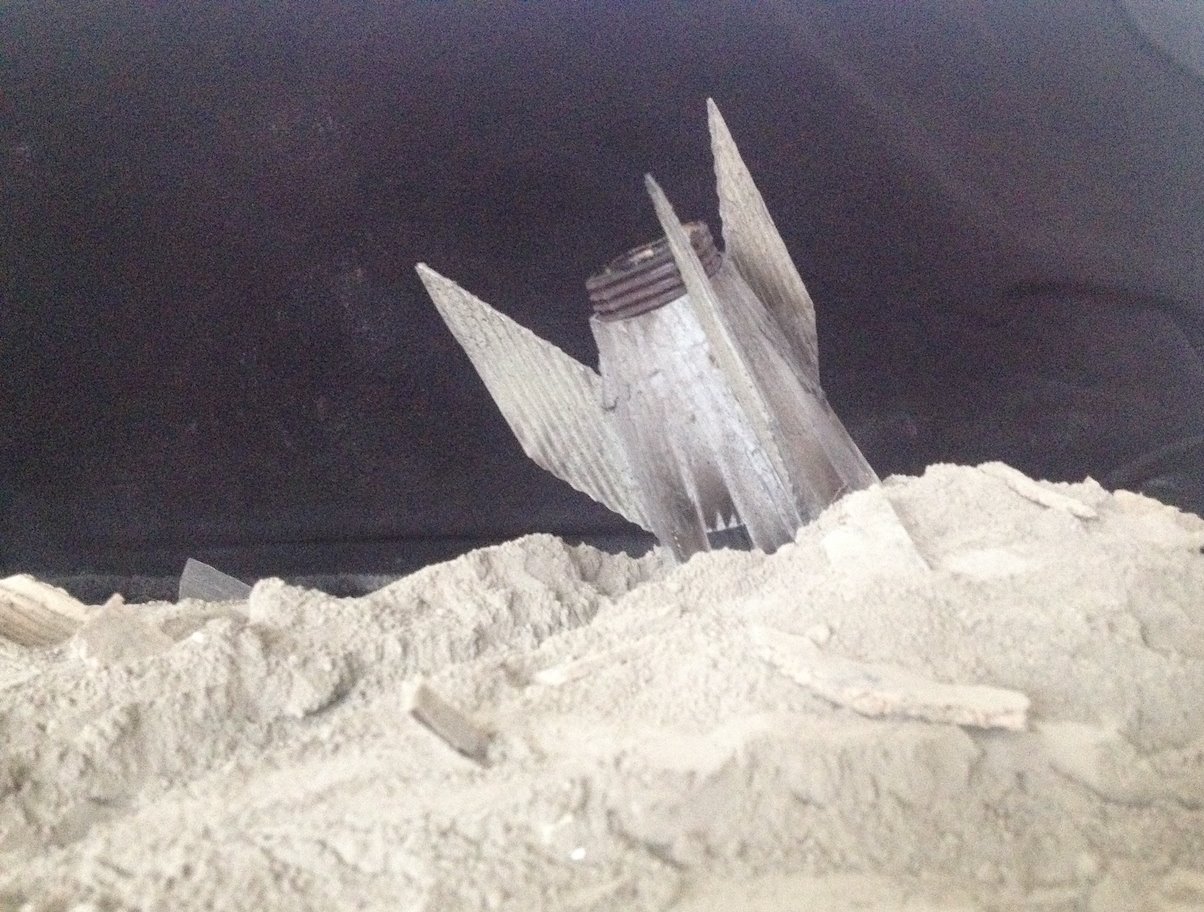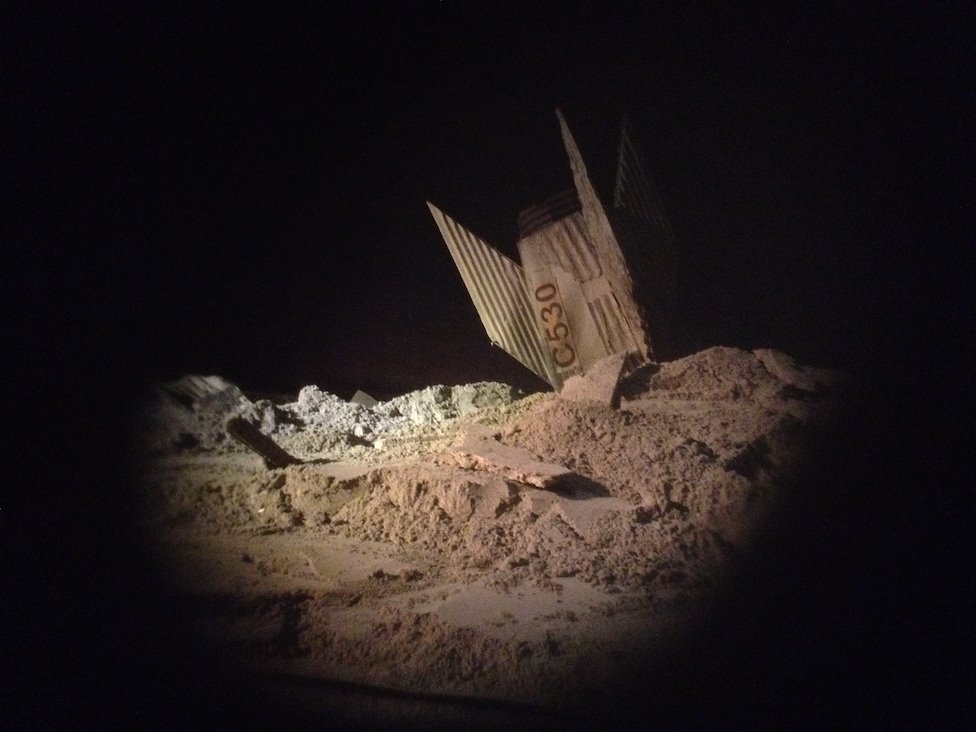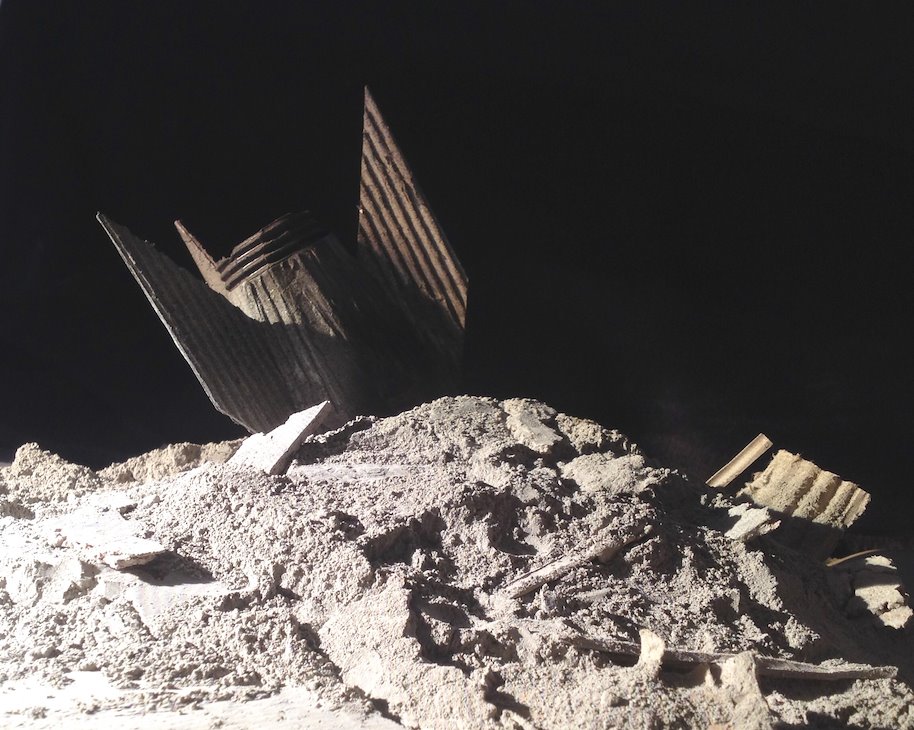 Photos showing the progression from scratch-built cardboard model, to its positioning in cement, with two variations of lighting (the 'vignette' was achieved by piercing a small square of tape, and fixing it over the camera of my iPhone). The design of the model was influenced chiefly by the German V2 rockets of World War Two, and space rockets typical of early science fiction films ('The Quatermass Experiment', for example). I decided to only construct the lower fuselage simply to allow me to suggest the rest of the rocket as being buried on impact. The model is made entirely from cardboard packaging, including the lettering and numerals, and painted with enamel spray paints. Finally, damage was created with a candle flame, which proved very effective in simulating charring across the surface of the rocket.
But why a rocket? And why crashed? These images represent the embryonic stages of a project that critically examines ideas surrounding progress and speculative futures. Using models as sources for artworks, I intend to interrogate the resurgence of interest in space exploration and, specifically, a return to the Moon. With several nations either maintaining or developing space programs, the renewed enthusiasm and investment may connote a broader trend to reinvigorate a stalled or lost sense of progress, forward momentum, or simply to restore hope in the future (humanity's search for redemption on distant worlds). The journey into space can be seen as an attempt to recapture the stated aims and principles of modernism, and again discover the continuing upward curve of advancement, ambition and technological innovation. A new frontier is sought, or an old one re-packaged. The rocket fallen back to earth signifies the illusion and ultimate failure of progress, with devastation and ruin following in its wake. In the light of this, the rocket is not only a manned vessel of exploration and escape, but also a missile that has failed to detonate. Whether vessel or warhead, both can be said to deliver the same payload.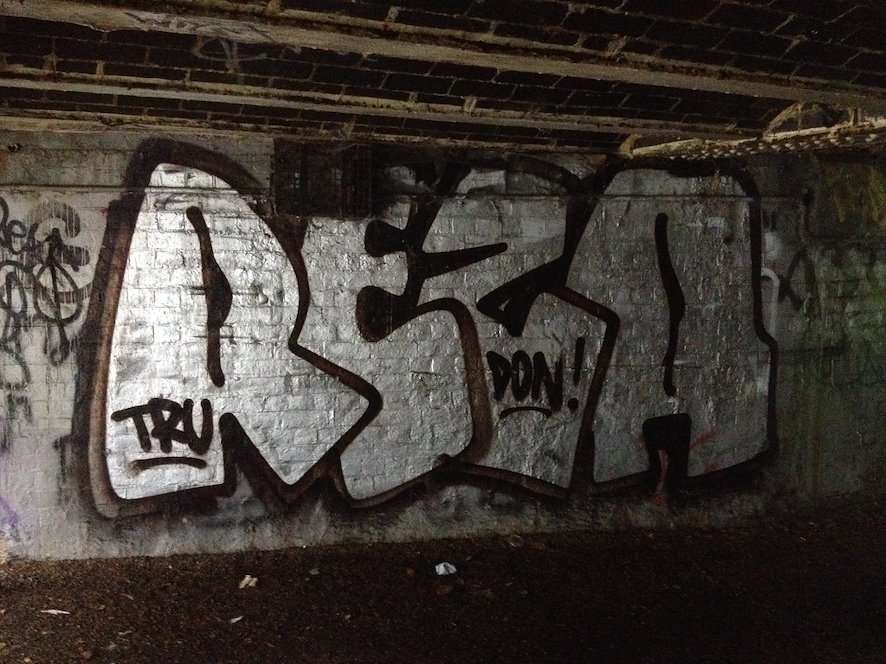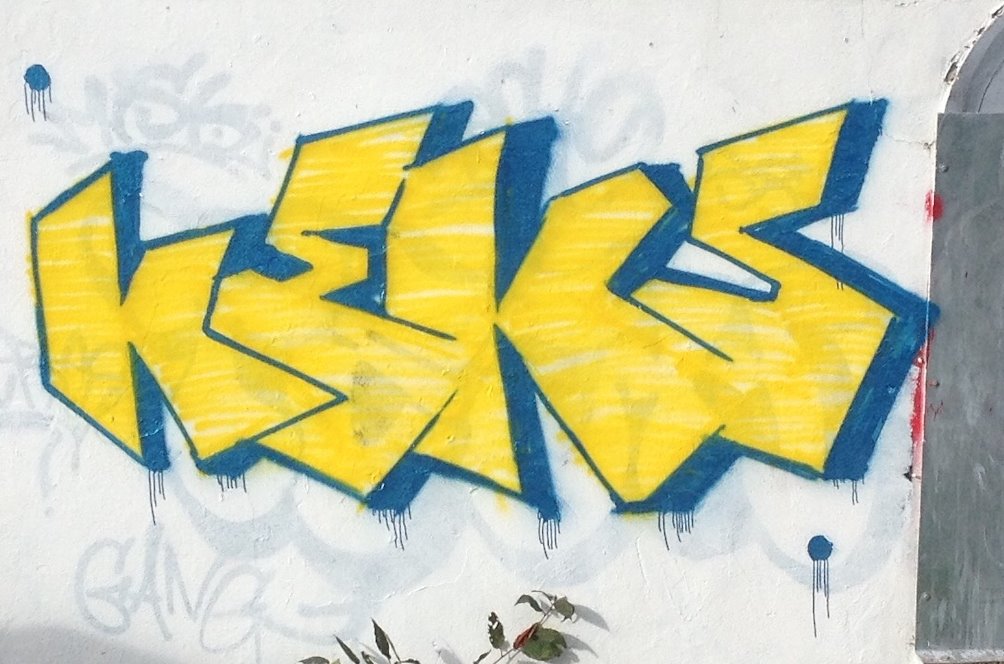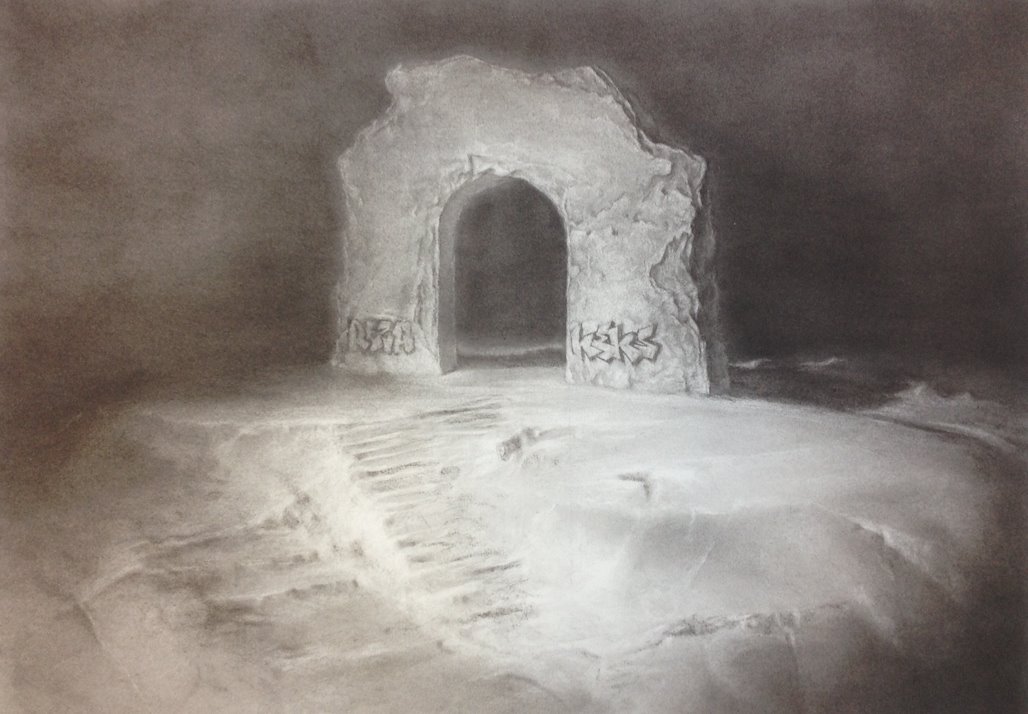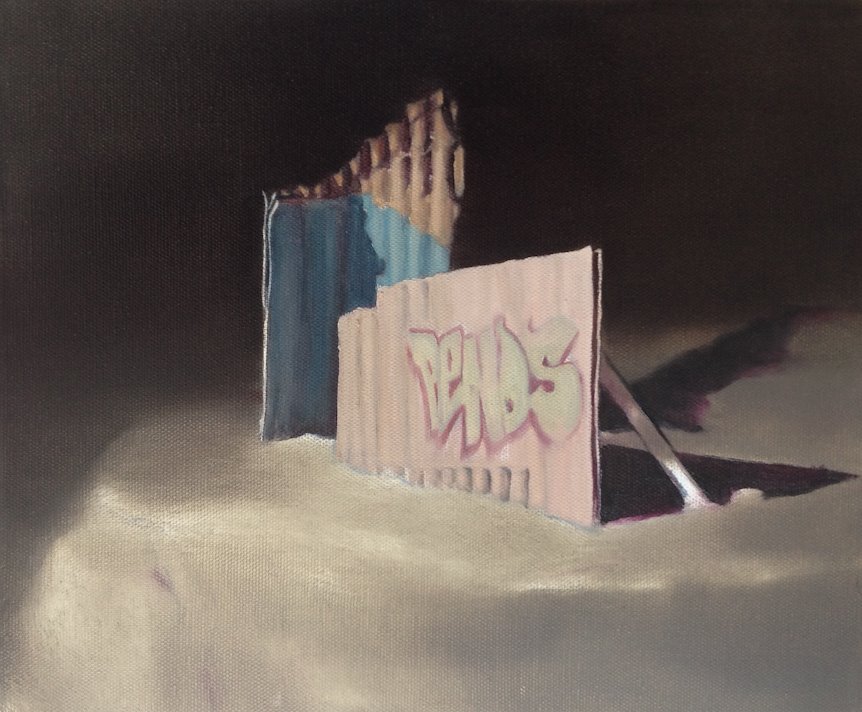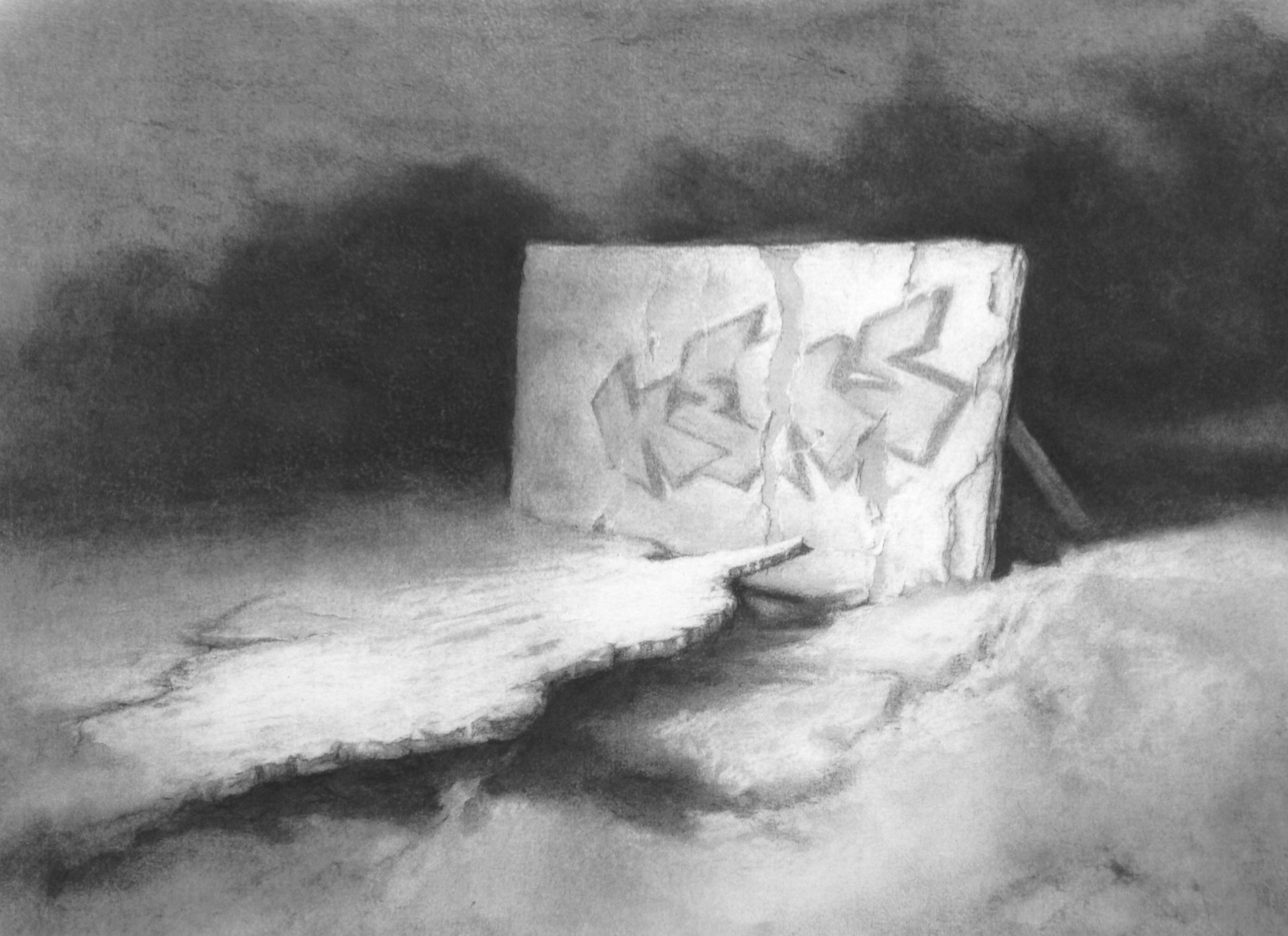 'In the Thin Places'
The ancient Celts believed in the existence of 'thin places' – portals or thresholds, representing a permeable barrier that allowed passage from this world to another. In some respects, my work can be said to be situated at the intersection of two worlds, or realities, in an eerie borderland of fragments and ruined structures. All graffiti shown here can be found in the vicinity of my studio, and when thus appropriated, becomes a signifier for this terra nullius, blurring the boundaries between artifice and the real.
Graffiti when encountered in those spaces that lie just beyond the familiar, or behind the built and landscaped facade, is an expression of a phantom culture that communicates only with itself, addressing an unseen and unknown audience. We are here cast unexpectedly as the outsiders, interlopers, trespassing in these edgelands, and excluded from this dialogue. We are confronted by an archaeological palimpsest of ritual marks and a lost semiosis: a visual history of dialectics, polemic and provocation. Paradoxically, graffiti as symbol, language and art, at the moment of its greatest vitality and affirmation, appears curiously moribund, anachronistic, dead. That it should then be the art and lingua franca of these spaces is perhaps no coincidence.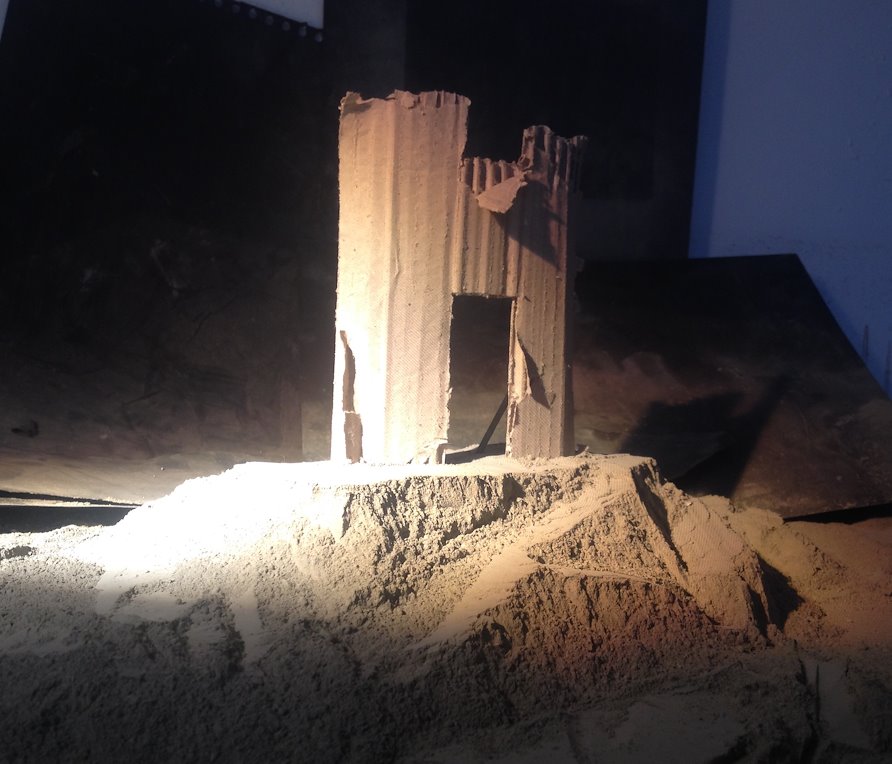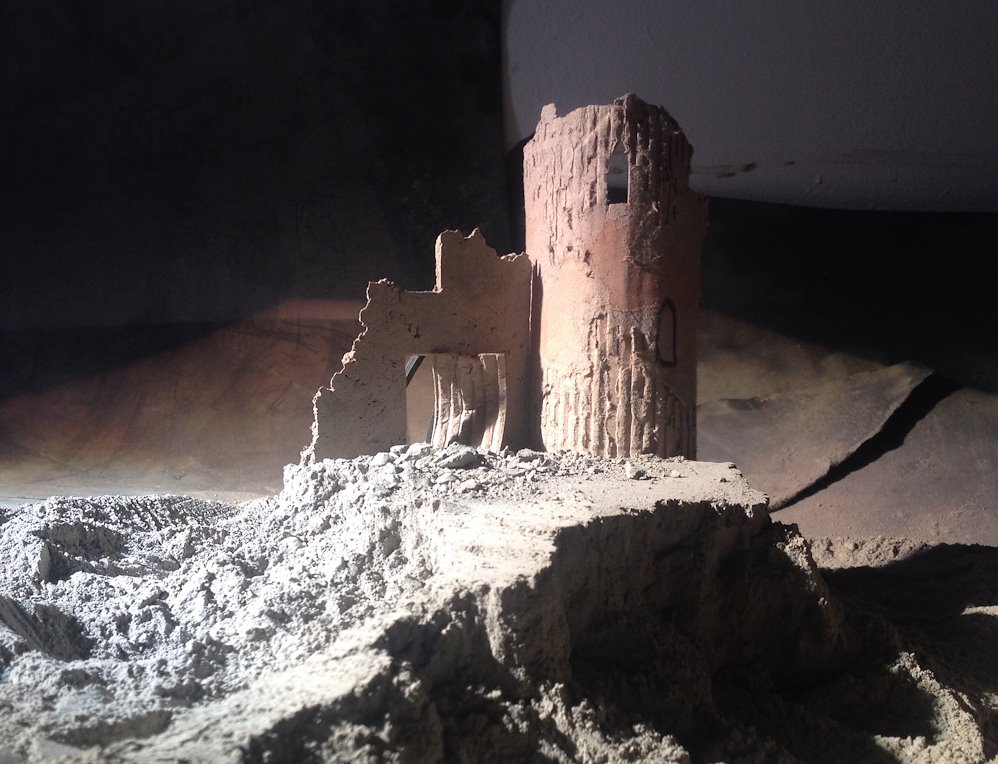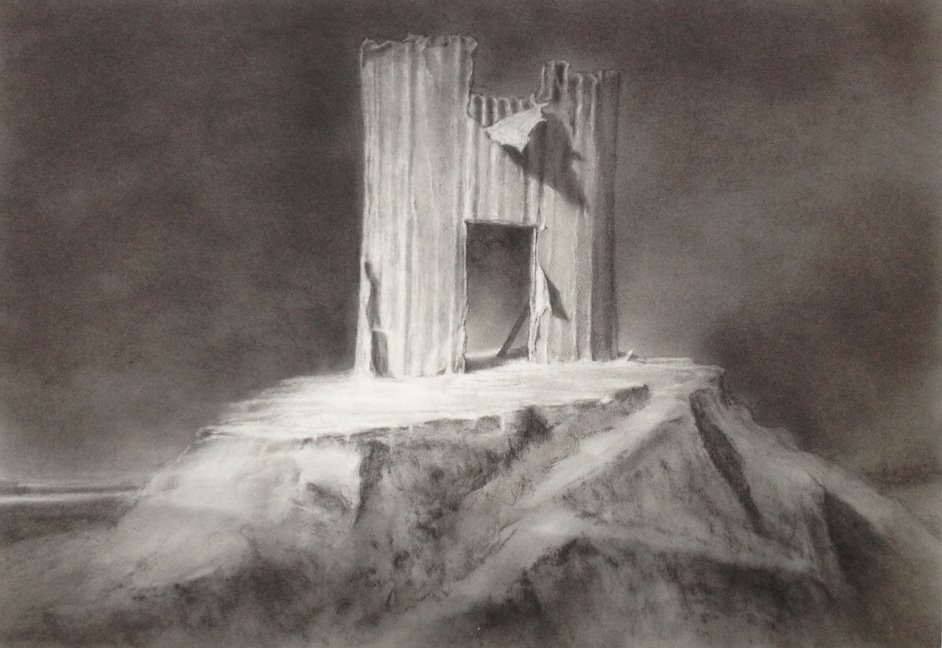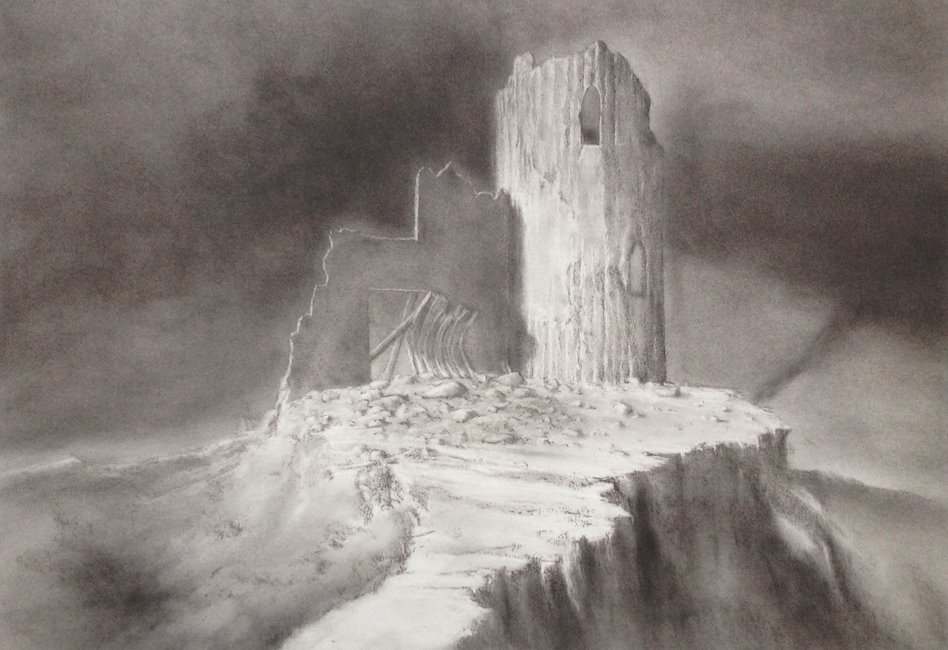 'Folly (noun) – a building in the form of a castle, temple, etc, built to satisfy a fancy or conceit, often of an eccentric kind' (Collins Dictionary).
'Folly (Contrived Ruin #1)' and 'Folly (Contrived Ruin #2)', charcoal drawings made from models of cardboard, cork and cement. While considering titles for these works, it occurred to me that the structures I build in the studio could also be described as 'follies' in the architectural sense: they are made solely for effect and the expression of an idea (metaphor and playful indulgence as opposed to utility), belying the physical realities of their construction. They have the character of 'cut-outs', 2 dimensional facades, an ornamental edifice intended to be viewed only from one location. In other words, an illusion, a sham.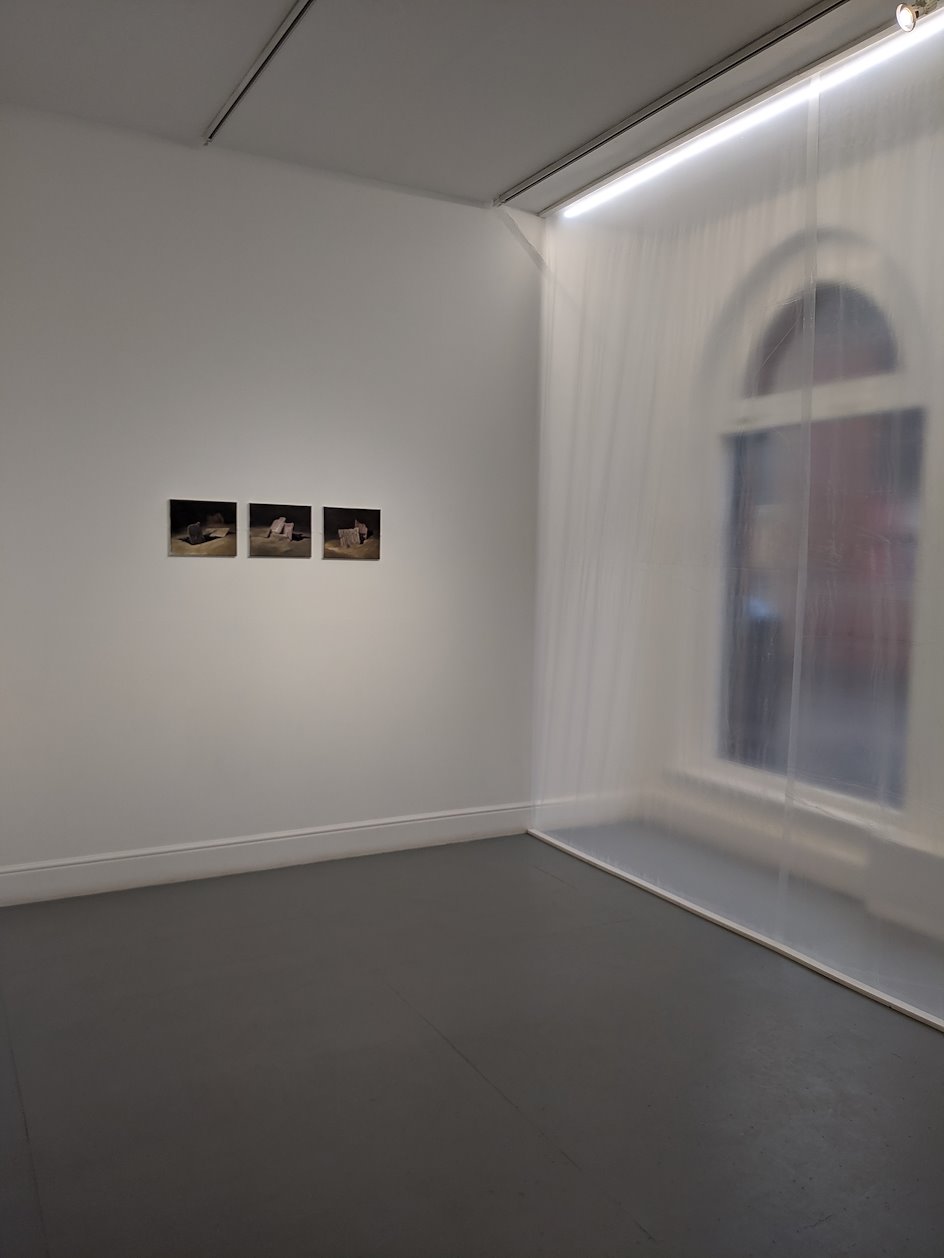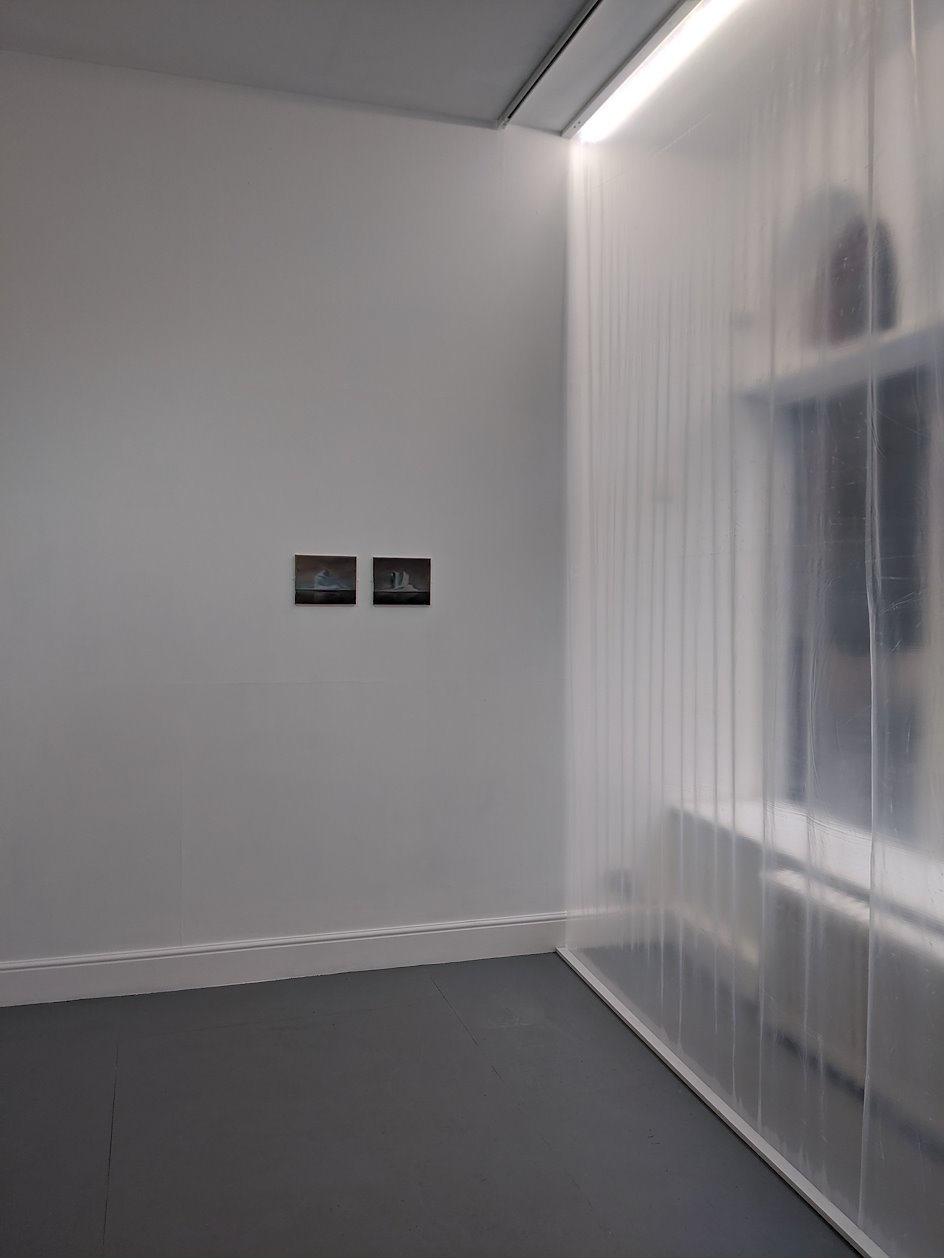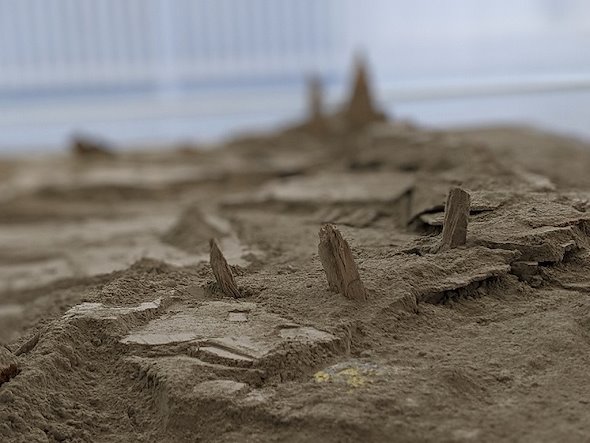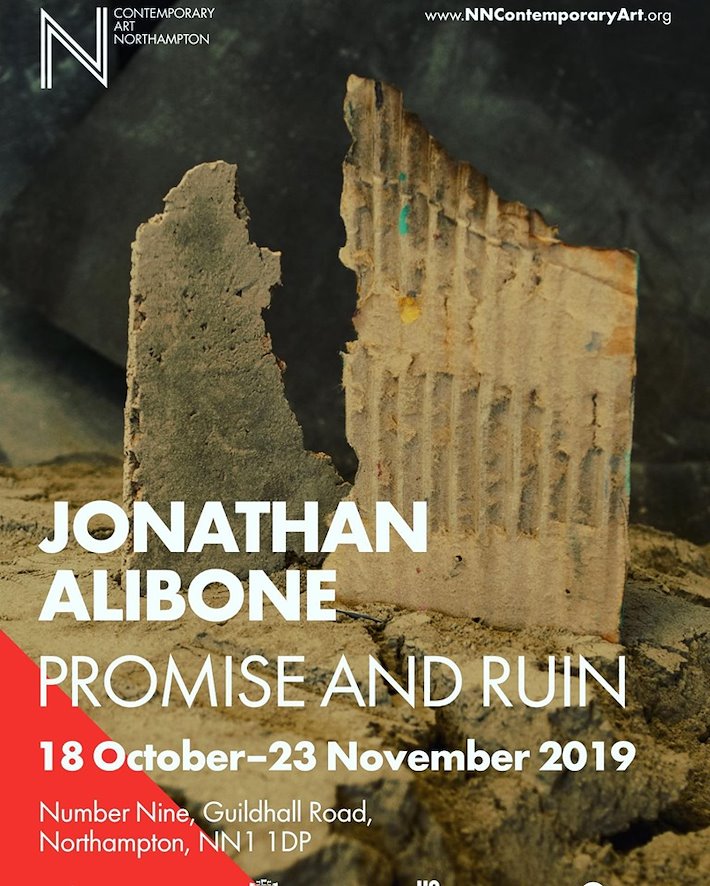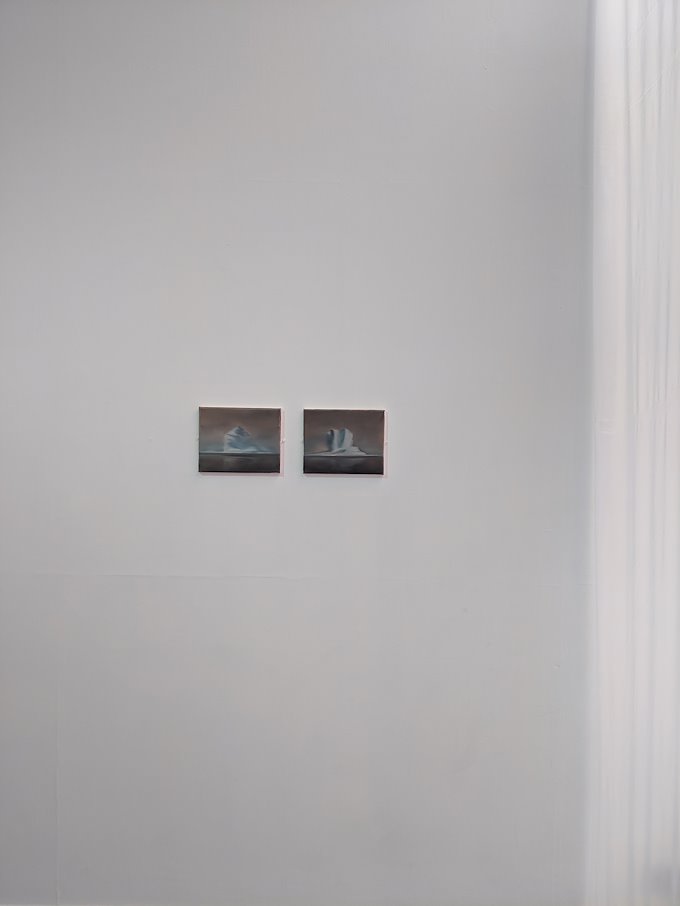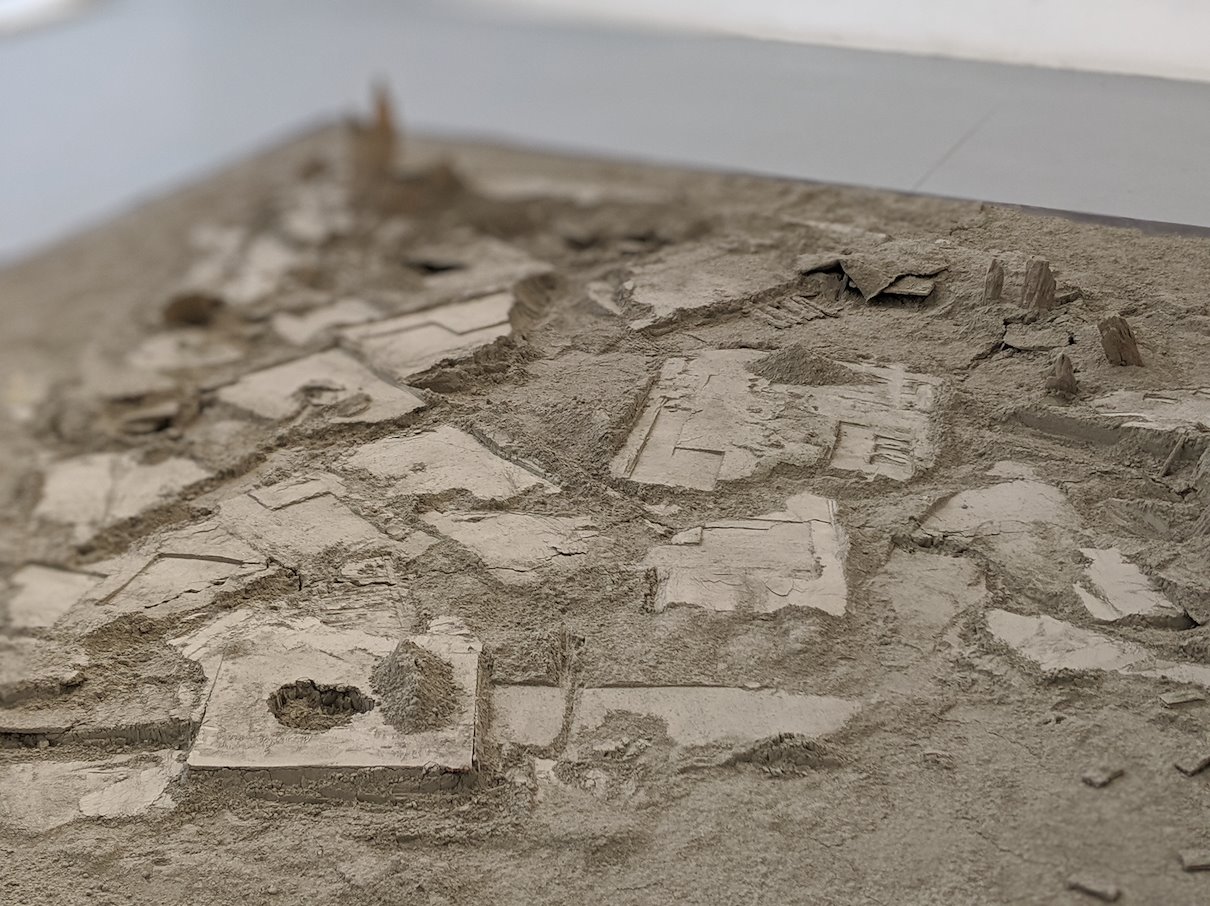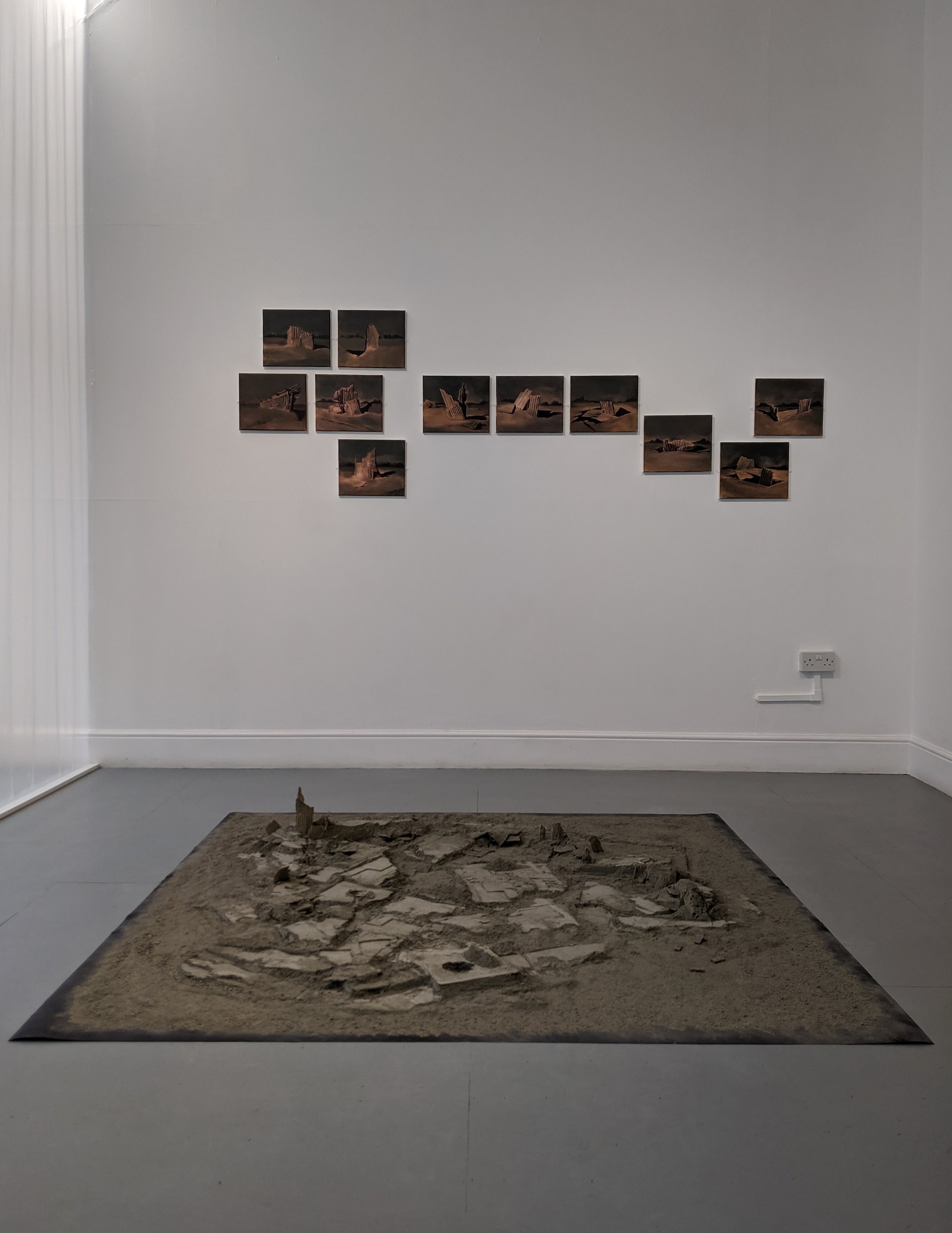 Installation photos from my recent exhibition 'Promise and Ruin' at NN Contemporary Art Northampton.
'Promise and Ruin' references archaeological methods and terminology, and can be understood as a retreat from uncertain times, suggesting the nostalgic longing for the consolations offered by the past. The allusions to excavations and dig sites thus connote an attempt to both recover lost narratives, and to reconnect to a sense of place. A determination to unearth, to delve down through layers of material, and to retrieve long buried archaeology, becomes a literal and metaphorical journey into the past, a search for 'wholeness', origins, and solid foundations, and to erect or locate a bulwark against the fracture and upheaval of the present.
The photos above show the stages in the construction of a ruined section of church or abbey. Made from sheets of polystyrene foam, and coated with plaster filler, before finally painted in washes of oil paint. The similarities between the diorama and a Caspar David Friedrich painting is not coincidental!
This marks a significant departure from the ambiguous cardboard structures that have until recently provided the inspiration for my paintings. I have resisted heading in this direction for some time, and for two reasons: firstly, I've felt it was a retrograde step, reminding me as it does of modelling-making hobbies from my youth. But my interests were taking me in this direction, and so I decided to follow them wherever they lead. And secondly, such an emphatic reference to a recognisable object I felt would be limiting, that it would narrow interpretive responses or narrative possibilities. However, by directly invoking the tropes of the Romantic landscape tradition, I feel would be an engaging strategy the better to explore the ideas, values, and political concepts that inform our understanding of landscapes in Western art.
The evolution of an image, from original photograph of cardboard model, to the hand-finished inkjet prints on transparency film.
Two more inkjet prints, hand finished with a brush. The source images were photos of dioramas created in the studio using cement, paper, and cardboard. The intention here is to continue to explore artifice, and disorient with a playful manipulation of scale.
Four small works from a series of paintings first begun in 2017. Layers of paint are applied with a palette knife on a coloured ground, before being scraped, smeared, and spread across the surface. A brush is used for blending in the final stages. Photos were used initially for reference, but the resulting images bear little to no resemblance to the source material.
Small paintings from 2017, all oil on canvas, and 20 x 25cm. Experimenting with a change in palette (more yellow ochre), and again using a knife to apply and blend paint.
Five small (10" x 8") paintings from a growing series of works executed in oils using a palette knife. Begun in April 2017, they reference documentary photos of U.S atomic testing. The surface of each work is the accumulation of several layers of paint, applied rapidly and with no clear idea how the final image will look. The surface becomes a record of this process: each layer disturbs, and is disturbed by, the layer beneath. It can be said that the resulting image conveys the disruption and the violence, while the medium embodies it.
Before and… after. On the left, the original photo of the diorama (cardboard and cement), and on the right, the subsequent oil painting (25 x 30cm).
The photo in many respects is only a starting point; my intention is never to produce a slavish copy, but rather to exaggerate some elements, while suppressing or omitting others. A successful painting achieves a balance, and should transform the cardboard and cement into something both strange and recognisable.
These five small paintings represent initial studies made from the diorama photos described in the last entry. They are approx. 12 x 20cm, executed in oils on canvas. I intend to make larger paintings from these studies, and for them to join the series titled 'The Diminished Realm'.
At the beginning of November I began a new project. Rather than rely on found images for the inspiration for paintings, I instead decided to construct a world; I assembled crude structures, landscapes and dioramas from cement, cardboard, and assorted detritus, before photographing the various scenes. The lighting was provided by strong lamp (in this case an archaic overhead projector), and the photos were taken with an iPhone.
The original intention was to use the assemblages as a ready source of reference for paintings; I may however decide to develop the images as a body of work in their own right.
Three paintings, all oil on canvas and completed in 2016, selected here as examples of my evolving style and palette. They are in order of oldest first from left to right, with the large image being the most recent of the three.
Each painting began with a warm pink ground, before a similar palette was used to model forms. Over time however, the paint was thinned with increasing amounts of medium (linseed oil and turpentine), and more of the ground was allowed to show through; highlights were not stated with opaque colour, but rather with the exposed pink below. Successive paintings became looser in their modelling, my intention being to develop a more economical expression of form, so that they would attain a 'provisional' and even an unfinished impressionistic quality.
'Something Wicked This Way Comes' (2016).
An inkjet print on transparency film of a found photograph, painted into with a brush and water. Made with Halloween in mind…